When you have completed the basic setup of LogTrade Connect in Dynamics NAV you shall activate Integrated Printing in the LogTrade webportal.
To open the LogTrade webportal just click LogTrade Web in the Navigation Pane for the Classic Client, otherwise the URL is http://www.logtrade.se. For each shipping agent (called carrier in LogTrade) you need to remove Test Mode. For example, Choose Settings -> Carriers -> DHL Freight, Sweden to open setup page for DHL Freight, Sweden. On each shipping agent you simply remove the checkmark in section as below. You can also open setup page for a specific shipping agent directly from Dynamics NAV in the Forwarder form on the button Forwarder / LogTrade Settings Web Page.

Next thing you need to do is to activate LogTrade Integrated Printing. Choose Settings -> System Settings. In Printer Settings you fill in the checkbox Activate Integrated Printing.

Installing LogTrade Distribution Printer
The next step is to install the LogTrade Distribution Printer. Before starting installation make sure you are logged in on the computer with the user account that will run the Windows service for LogTrade Printer. Choose Help -> Download on logtrade.se.


Choose the version that suits your operating system.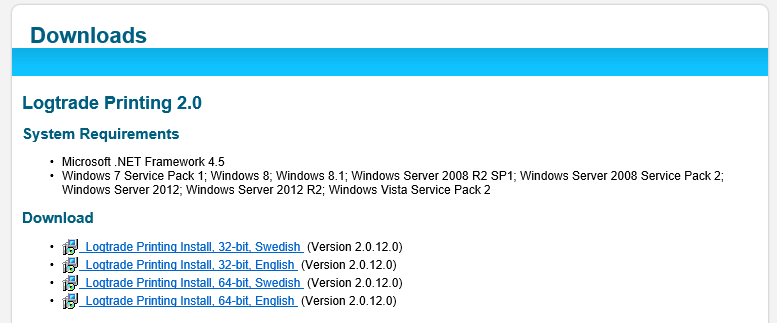 The following pictures shows the installation of LogTrade Printer executed from a web browser. The security related screenshots in the beginning might be different in various browsers. These screenshots are shown since the installation program is not signed and that is why Internet Explorer consider this as a potential security issue. It is not a security issue.

Choose Run to continue installation and the following dialog is shown.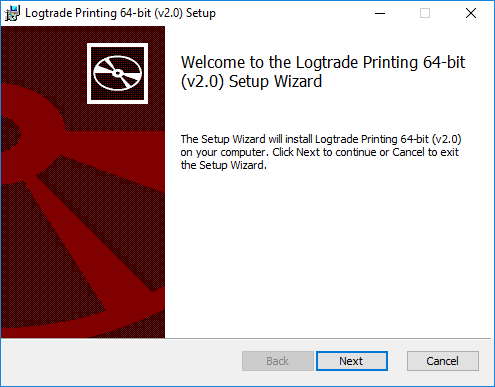 Klick Next.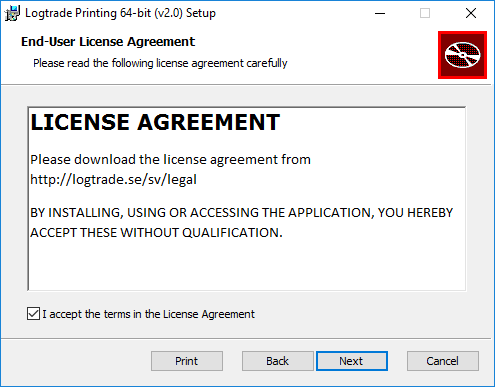 Accept the license agreement and klick Next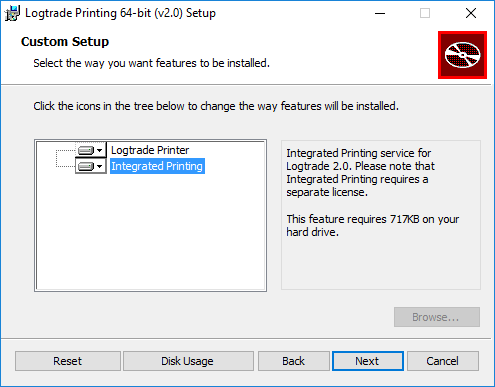 Make sure that you select Integrated Printing here and klick Next to continue.
Fill in login details. Make sure to be logged in as this user when doing installation and setup. Then click Next to continue.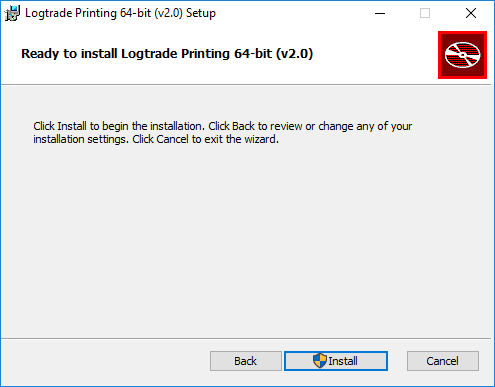 Click on Install to start installation.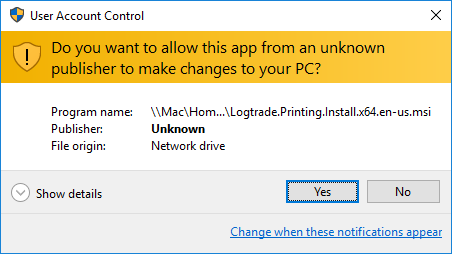 Klick Yes if you are prompted by this message.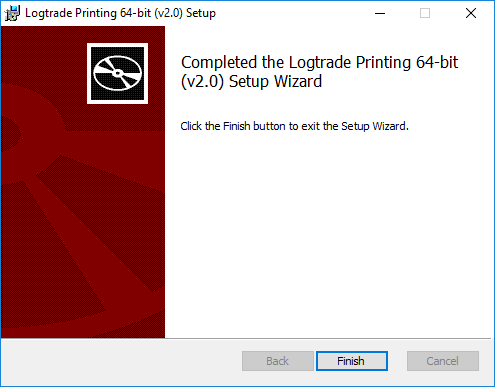 Parameter setup for Integrated Printing
Open Integrated Printer Configuration from Windows Start Menu. Make sure you are opening "Integrated Printer Configuration" and NOT "Logtrade Printer"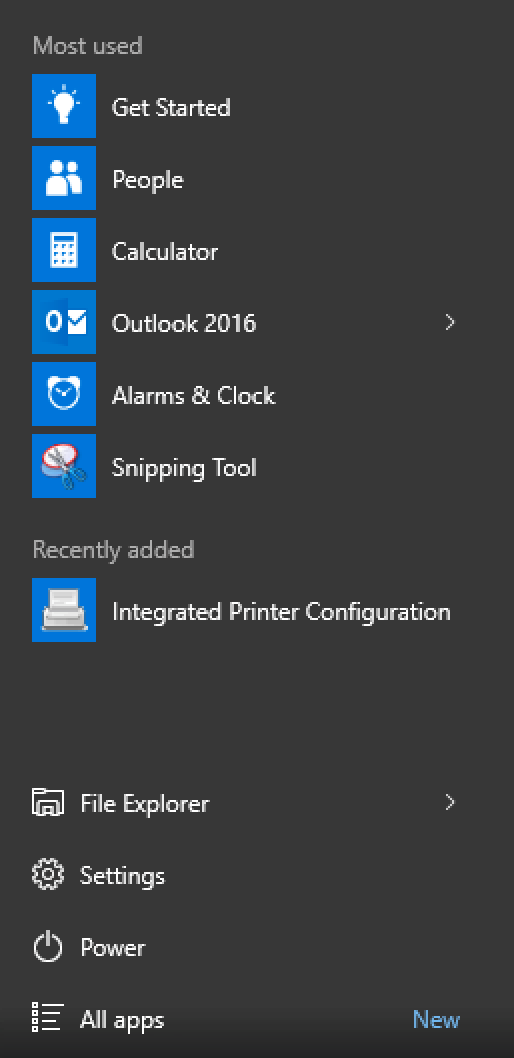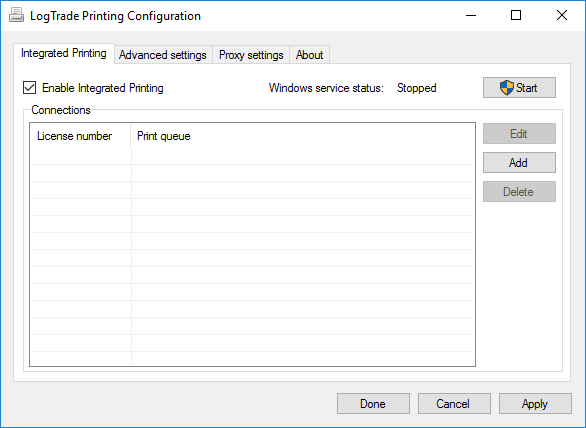 LogTrade Printing Configuration is used to setup which printers that should be used for each printer queue. Make sure to check Enable Integrated Printing and then click Start to start the Windows service.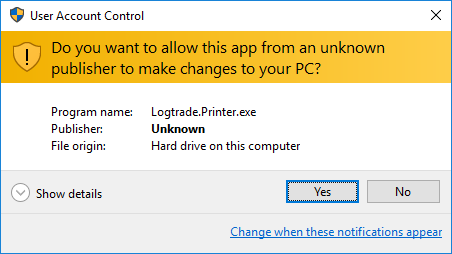 Click Yes to continue configuration.
Fill in your login credentials you have gotten from LogTrade and the click Connect. That will bring up possible Printer Queues to select.
After you have chosen Printer Queue you must select which printers to use for each document.
STD – Printer for waybills, CMR, invoices, delivery notes.
STE – Printer for package labels, normally a label printer
STL – Printer for Manifest Lists. Often same printer as for STD.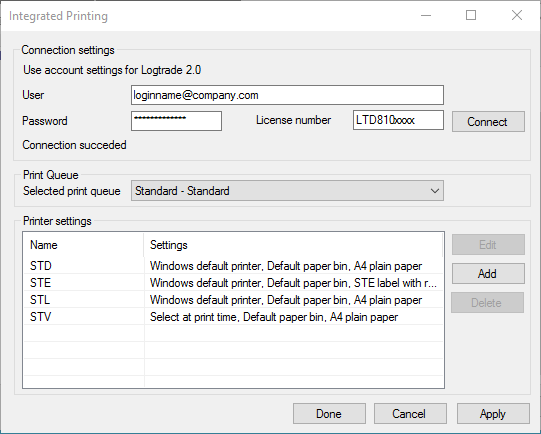 For each printer name and click Edit.
Choose printer and correct paper source. Then click OK to finish setup for each printer.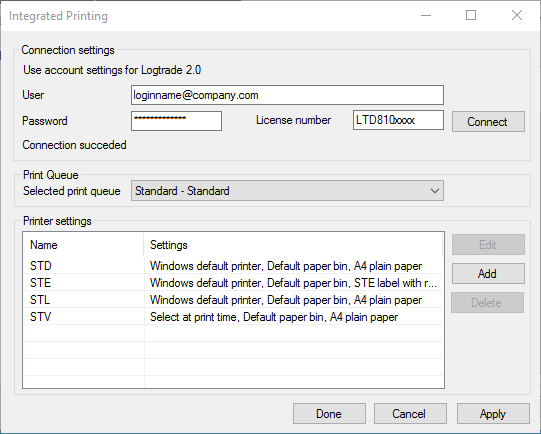 Klick Done when completed.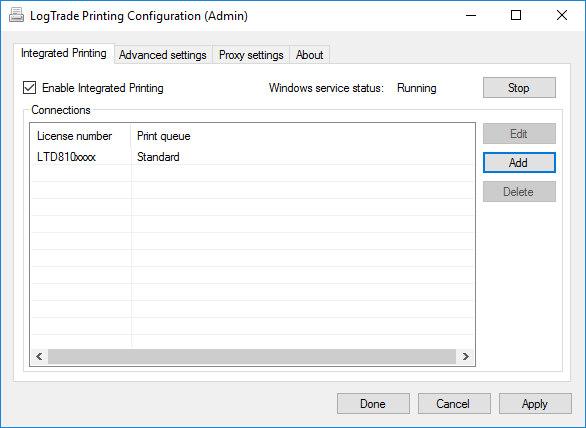 Status on print queues
To be able to see status for each Print Queue choose Settings -> System Settings -> Integrated Printing and then the page Active print queues. Here you can see if a print queue is connected or not.